LouseCalls Loving Lice Advice For Summer
Nothing Lousey-er than lice at summer camp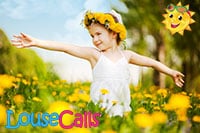 It's an all summer long "Field Day" at camp with all the hugging, bunking and close quarters at camp.  Biking helmets, horseback riding helmets, sports helmets and camp-outs!!!  "OH, MY!!!"  What a hot spot camp is for head lice.  Nothing Lousey-er than lice at camp.
With a few tips and tricks from LouseCalls you can have a relaxing summer and rest easy knowing your kids won't be bringing home some extra baggage from camp this summer, AKA head lice. How can we help you manage the Lousey lice of summer?
Be Proactive Before & After Camp
Mention head lice before your kids go to camp. Tell them to have an amazing time and if they happen to get head lice, its not the end of the world, it can be fixed and is very common.
Explain that it is just bugs that get spread from head to head and they can not get hurt by head lice.
Ask the camp what policies they have set in place to deal with a potential lice outbreak. Do they check kids for head lice when they arrive and at any other time during their stay? If they find any, what is their protocol? You may want to check your own child's hair for lice BEFORE sending them off to camp to avoid relying on the camp to possibly treat your child should they have lice.
Call LouseCalls for pre and post camp screenings.
Purchase a head lice prevention kit.  Lousecalls sells an amazing shampoo, conditioner and mint repellant to help fight against and prevent head lice.
AFTER camp: look out for persistent itching on the scalp and neck as well as a rash behind the ears and neck.  Get checked for lice by a professional! It's worth it.
Let us know if we can help with any lice advice to help make your summer lice free.  Don't join the Louse-y summer club! We are here to help in South Florida, Central Florida and Southwest Florida for lice information, lice removal and treatment and lice prevention.